Up until 2015, having on-premise ERP was a common choice for businesses. However, deploying on-premise solutions for businesses required significant technology implementation, human capital and financial investment. This made it harder for SMEs to implement a solution for their business which wouldn't break their budget. However, this trend has changed over the years and we are seeing more and more options come into the market.
In today's increasingly challenging environment, the use of the right technological tools is particularly important for SMEs. If you are wondering how SMEs can gain competitive advantage, have a connected business and have access to real-time view of their data by using business intelligence technology, this article is for you!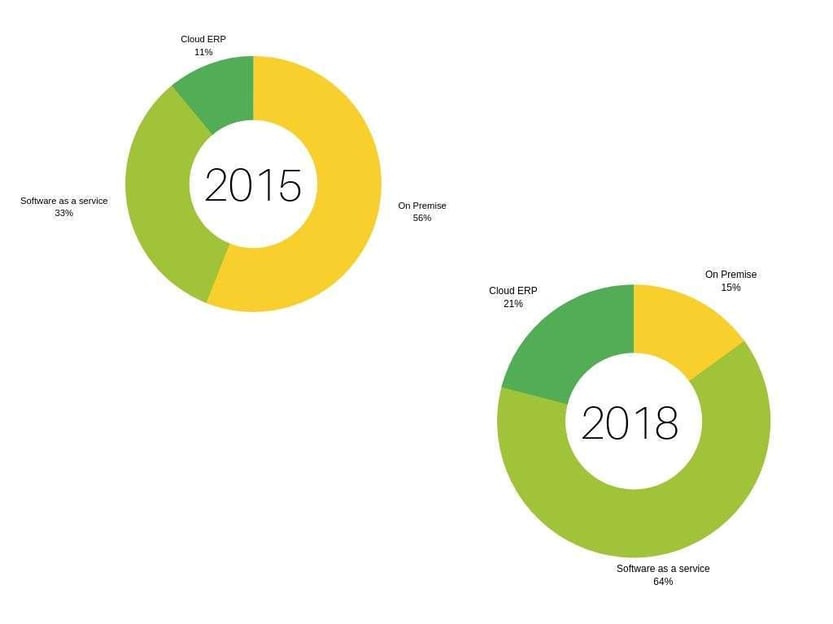 Image: Comparison of SaaS, Cloud and On-Premise ERP systems between 2015-2018
In efforts to gain a competitive edge in the digital economy, businesses are increasingly becoming more data-driven. The increasing ethical concerns about the use of data by Facebook is a great example of this.
Every size of business is constantly collecting data on an everyday basis. A business intelligence solution (BI) would help you store and manage this data to help derive useful information from the treasure trove of data that they collect daily.
Data driven business decisions aren't only streamlining and improving business processes, it also results in higher sales numbers and fostering meaningful relationships with customers that you as an SME serve.
According to Gartner, the BI market is expected to grow to US$22.8 billion by 2020, indicating more and more businesses will start deploying transformative solutions from this space.
While big businesses are already leveraging BI tools to their advantage, start-ups and medium sized companies that are wondering if the technology is right for them should no longer waste time.
Here are some of the ways BI tools can transform small businesses.
Making informed business decisions
With software as a service (SaaS) such as Mailchimp and HubSpot, it is very easy for SMEs to collect customer information such as contact details, market segment, demographic profiles, and sales data.
But collecting data alone without a proper strategy to utilise it all not only renders the effort useless but also may end up costing the company.
ERP systems with BI tools such as SAP Business One and MYOB Advanced help analyse raw data into valuable, actionable insights and help business leaders tweak their operational and business strategies to better reflect the market. Statistics also show that companies with a BI make informed decisions 5 times faster than their competitors who don't use a BI.
Deeper customer knowledge = A chance to explore company's opportunities.
The digital economy is a crowded and saturated market place.Companies need to stand out one way or another and the only way to do that is by knowing what your customers want and knowing company's strength, weaknesses and opportunities to find new trends and predict new customer behaviour.
With BI solutions, companies could consolidate data from multiple platforms and departments, including sales, marketing, customer service, supply chain and logistics to put together a single source of truth about the consumer base.
Enhance customer experience and grab their attention
As mentioned previously, companies need to do more to win customers in the increasingly crowded marketplace.
In today's digital world, customers have platforms which they can use to inform others what they expect of a business. If your business is not up to the mark, there is always another business you can be easily swapped with. Therefore, customer experience is a new battlefront that allows for the retention and acquisition of customers.
BI solution such as MYOB Advanced and SAP Business One are designed to collect data from various locations and give you the ability to have a 360 view of your #ConnectedBusiness.
This allows you to have a #RealtimeView of your customer's journey and understand which pain points need to be removed for customers to continue shopping with you.
Identify or improve on your business strategy
Identifying data from different departments can open your eyes to new information and help you step back and reflect on the return on investment on efforts made by each department. For example: businesses with a warehouse will know labour costs are significant. If you start sending people around the warehouse in an inefficient way you will find it hard to increase profitability.
An ERP system with a BI will help you utilise the information that is readily available and use it to structure a warehouse based on strong location management. With a location-based warehouse system you can tell pickers where to go based on smart-planning.
You can build your entire warehouse-based on zones, rows and aisles that lend themselves to smarter picking.
Are you a business in need of an ERP solution with BI? Inecom is currently running workshops for businesses such as yours. You can book a time, date and location of your preference to meet one of our ERP Implementation experts and ask as many questions as you like. Click below for more information.